You can synchronize live calendar data with external, non-Keep&Share calendars using iCal publish & subscribe feeds. To "subscribe" to other Keep&Share calendars so they'll appear in your own K&S calendars, use Overlays.
iCalendar is an industry-standard format for exchanging calendar information. Almost all major calendar programs support it, including Keep&Share, Microsoft Outlook, Google Calendar, Apple iCal, etc. The iCalendar feed serves as a direct connection between your K&S Calendar and calendar programs outside of your K&S account.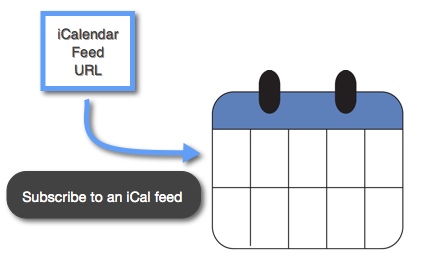 An iCalendar subscription feed transfers data from an external calendar into your Keep&Share account.
Note: the iCalendar feed feature is available only to paid Keep&Share accounts.
If you currently have a free Basic account, you can try a 15-day free trial of our Solo plan to try out all of our premium features.
Subscribing to an external calendar
In your external calendar program (such as Google Calendar or Microsoft Outlook), find and copy the iCalendar feed URL published by the program. Subscription URLs have to point to a specific ".ics" file and the URL must end with a .ics extension.
Then open your Keep&Share calendar, go to the Customize screen, click on the "Share, Embed & Subscribe" tab, and then click on the "Subscriptions & feeds" tab. Click the dark blue "Manage your subscriptions..." link. See the image below:
This will open the iCalendar subscriptions management screen, which allows you to set up and manage your iCalendar subscriptions. To create a new subscription, click on the green "New iCalendar Subscription" button. Then add the URL and title of the iCalendar feed you copied earlier. Then, select your choice of update schedule from the drop-down menu and your choice of timezone and subscription detail settings. Click the "Update" button to save your changes.
Return to your calendar, and in the navigator, on the left-hand side of the screen, your new calendar iCalendar subscription will be added as an overlay to your calendar.
Tip: You can use the
Calendar Overlays
feature to aggregate multiple calendars both in and outside of your account for a combined view all in one Keep&Share calendar.
Learn more about:
To learn more about all of the iCalendar options available, visit our solutions in the Synchronize with iCalendar solutions folder.